Last Updated on August 8, 2021 by Danny
Acrylic drums or clear drums had existed since the late 50s when Bill Zickos made the first acrylic drums as an experiment. These were extremely popular in the 70s and remain popular to this date. They are loud and bold and are probably the most visually stunning of all drums. They are so much transparent that you can see thorugh them. We have listed the best acrylic drums in the market right now, along with what makes acrylics unique and how to take care of them.
Some of the Best Acrylic Drums To Buy
---
1. DW Design Series 5 Piece Acrylic Drum Set
This set from DW comes with a 22″ x18″ kick, a 14″ x5.5″ snare drum, and three toms of sizes 10″ x8″, 12″ x9″, and 16″ x14″. The set is straightforward to set up; the only hassle must be putting the floor tom and bass together. You get a few spare lugs and even two Velcro pillows for your kick drum. The only hardware you get is floor legs and mounts for the toms. However, they are chrome plated and look good.
The shells are entirely seamless and perfectly round, the bearing edges are also well-cut. The included heads are great and are great for punchy notes, and are high on the attack. However, many people have upgraded their heads. The DW Design Series drums are also a little overpriced compared to options like the Pearl Crystal Beat and Ludwig Vistalite.
2. Pearl Crystal Beat 4 Piece Acrylic Drum Set
This four-piece acrylic drum kit pack consists of a 22″ x16″ kick and three toms of sizes 16″ x15″, 14″ x13″, and 12″ x8″. It does not include a snare drum, so be sure to purchase a snare separately. These are extremely loud and quite great for rock. They are also straightforward to tune, and you will be able to adjust them to your playing style quickly. While the stock drum heads are great, you might want to upgrade if you want to get the best from this set. This set comes with a two years warranty, and Pearl's post-sale service is simply amazing.
This is a shell pack and therefore doesn't come with any hardware. However, you do get the floor tom legs and the Opti-Mount bracket. However, please understand that the brackets are just tom holders and not arms.
3. Ludwig Vistalite John Bonham 5 Piece Acrylic Drum Shell Pack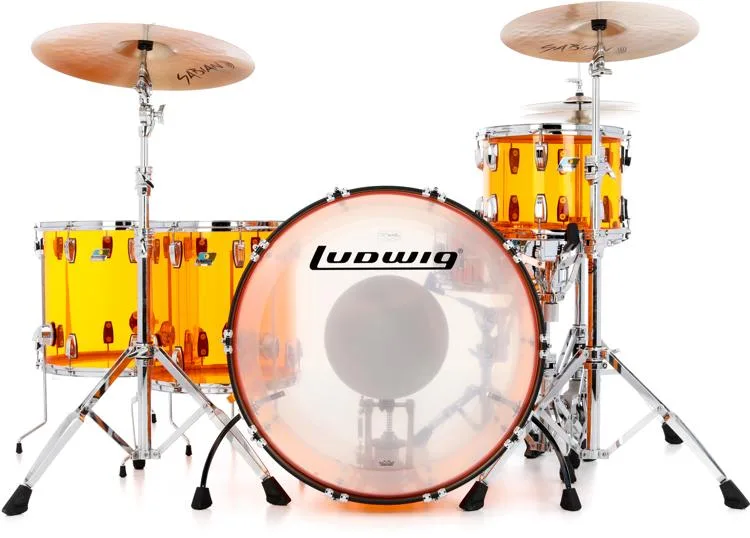 This is a recreation of John Bonham's iconic acrylic drum kit, so you can trust us when we say that this thing looks amazing. This is a great drum set for metal and for hard rock as it has an extremely aggressive attack. The acrylic is quite extremely durable and looks great. You get a 26″ x14″ bass, a 10″ x14″ mounted tom, two-floor toms of sizes 18″ x16″ and 16″ x16″, and a 14″ x6-1/2″ Supraphonic snare drum. This snare is one of the best in the market.
This kit's tone is excellent, and with a proper drumhead choice and tuning, you can rock any genre with this kit. The projection of this kit is unparalleled; the bass especially sounds like cannon. You can even get this kit in John Bonham's iconic amber color.
4. Crush Acrylic 4-Piece Drum Shell Pack
This isn't the best looking nor the best sounding acrylic in the market. However, it is affordably priced, and it sounds great for its cost. With seamless shells and polished bearing edges, this set will last you long. This is, in fact, one of the cheapest seamless acrylic drums on the market. The sound is quite punchy and resonant. However, while the snare drum is alright, it could be better. You also get Crush's four-point suspension mounting system with this set. If you want an excellent acrylic set that doesn't break the bank, this would be the ideal choice.
Acrylic Drum Set Buyer's Guide
---
The Build and Weight of Acrylic Drums
Acrylic drums can be made in two ways. Acrylic sheets can be rolled and glued together, or the plastic material can be directly molded into a cylindrical shell. When it comes to weight, acrylic drums do weigh a little more. While the weight difference isn't drastic, people who find wooden drums to be too heavy will find them especially troublesome.
These drums were previously mainly produced in either clear or blue color since these were the most popular choices among drummers. However, since these drums are made from plastic and plastic can be made in nearly any color, you can get these drums in all the rainbow colors. No material is as flexible as plastic. From bright red to dark violet, everything is now available. There are even drums with multi-colored shells in striped patterns. If you spend a little money, you could even get smoky finishes or opaque shells. However, these extreme finishes tend to be much more expensive as they are much rarer.
The Difference in Sound Between Acrylic and Wooden Drums
Acrylic drums are much louder compared to wooden drums. The acrylic shell can project more strongly and gives it the punch associated with it. However, the shell is only part of the equation. Therefore the drumheads, drum tuner, and even the sticks used to play will play a significant part in the audio produced.
Most people (even drummers) won't find the difference between a wooden drum and an acrylic one. Even though these drums are usually associated with loud music, they can play any genre with the right drum heads and proper tuning.
Famous Drummers who Played Acrylic drums
The most iconic acrylic drum is the Ludwig Vistalite, played by the legendary John Bonham in the 70s. In the show Midnight Special, Keith Moon played on an acrylic drum with a goldfish inside the shell. Other iconic drummers who used these drums are Ringo Starr, Nick Mason, Karen Carpenter, and Lionel Hampton. Mike Portsoy and Thomas Lang are some of the recent drummers who have used these drums in their tours.
Taking Care of Acrylic Drums
Acrylic drums are more fragile than regular drums. This is because of the manufacturing process and material of these drums. The seams on an acrylic drum are its weakest point, so the more seams a drum has, the more likely it will get damaged. Seamless drums are the safest choice as they have the best sound and are least likely to get damaged. All the above-listed drums are seamless so that you can be assured of their durability. However, if your acrylic drum splits or warps, repairing it will be extraordinarily troublesome or impossible. Therefore, it is essential to give these drums due care.
It would be best if you always transported them in hard drum cases that have padded interiors something like TAMA DSS72S 7 Piece Drum Bag. It would be best if you also took care to prevent any drastic change in temperature or humidity. As dirt appears more prominently in transparent drums, frequently cleaning them is essential. Using a glass cleaner or special acrylic drum cleaners is recommended. If you find small scratches on the drums, you can remove them with polishers or abrasive removal products. However, make sure that these won't harm your drums.
Do Acrylic drums sound good?
Yes, they do. They are loud and have tons of crack. However, just getting an acrylic drum kit is not going to make you the next Ringo Starr. You will need to get the right drum heads, properly tune them, get the right cymbals, and finally, you will have to practice like a deranged person if you want to sound good with any drums. If you wonder if acrylic drums sound better than wooden box drums, you are asking the wrong question. Both types of shells sound pretty similar, and you will need to choose depending on the visual impact you need and the genre you are playing.
Summary
It is hard to forget the visual impact of an acrylic drum kit when you can through the other side of drum, is quite exhilarating, especially if it is covered in lights. Their booming sound is also quite memorable. While these drums are not as popular as they used to be, they are still iconic, and you can still have a great time playing and listening to them.