With several brands and products available today in the market, it is challenging to choose the best drum set that would suit your style, preference, and budget.
Whether you are planning to buy your own electronic or acoustic drum set for studio recordings, live performances, or gigs, there are several considerations before investing in a quality drum set.
Most known drum brands such as TAMA, Pearl, Gretsch, or Roland, offer high-level kits at prices ranging from less than a thousand dollars to almost $9000.
These drum manufacturers often sell professional acoustic drum sets only with the shell pack, consisted mainly of the bass drum, rack toms, and floor toms.
Additional hardware and pieces such as the cymbals, drum throne, snare stand, cymbal stands, and the bass drum pedal are separately bought.
For high-end electronic kits, most manufacturers offer advanced drum modules that come hand in hand with quality mesh pads and durable drum racks.
To help you decide, we have featured the 10 most reviewed expert-level drum sets which are available on online retailers and were used by famous artists and drummers.
10 Best Drum Sets for Professionals
As a professional drummer, your drum kit setup matters.
Aside from your skills, technique, and style, the type, appearance, and sound of your drum kit would leave a lasting impression on your audience.
A decent drum set might help you get through your gigs and performances, but the best quality kits would make you look and sound more professional.
Although there are other products of the same quality and durability, we consider these ten drum sets the most suitable for your professional needs, trusted and recommended by the most famous drummers and artists.
---
1. Alesis Nitro Electronic Mesh Drum kit – Best Overall
One of the best electronic drum kits you could get your hands on is the Alesis Nitro Mesh Drumkit.
This 8-piece Electronic drum kit provides the best natural feel and response with its all-mesh drum heads, compared to rubber drum heads from previous electronic drum kits. With its high-end mesh heads, response and stick rebound could be adjusted by tweaking mesh heads with the provided tuning key.
This electronic kit was featured in Summer NAMM 2018, played by the drummer, 'TEXAS' Tim Root.
The Alesis Nitro Mesh Drum kit contains 40 drum-presets of classic and modern drum kits you can readily play for your practice sessions or performances. It also provides a variety of drum, percussion, and cymbal sounds you can choose from to customize a unique kit to your liking.
Modifying the kit is made easier through the Nitro module with buttons arranged in the layout of a traditional drumkit.
Moreover, the Alesis Nitro drum kit also offers a variety of additional features to hone your skills in music production, time-keeping, and dynamic playing. It comes with a built-in metronome, sequencer, and 60 play-along tracks to keep you motivated in your drumming journey.
This is a complete drum set for starting professionals, and music or studio producers. If you are considering to buy an affordable electronic drum set with a competent sound quality and response than this kit will bring out your creativity as a drummer.
Check out our full review of Alesis Nitro Kit.
---
2. Roland TD-50KV (Electronic drums)
Roland TD-50KV is one of the major choices of professional drummers for an electronic drum kit all over the globe. It has become quite popular due to its high-end drum brain module, maximum expression and sensitivity, and cutting-edge multi-level sensors.
This electronic kit is modeled with pad sizes that are close to an acoustic drumkit's specifications.
It is perfect for gigs, live performances, and concerts due to its advanced drum module which utilizes Prismatic Sound modeling. Under this sound engine, you can use any of the awesome drum-presets perfect for any music genre setup.
Whether you are playing Rock, Jazz, or Metal, the TD-50 covers all your needs, and will surely provide you the best quality of sound, and response. It also offers you a wide variety of options, allowing you to customize each pad the way you prefer it.
Furthermore, with its newest upgrade, you can convert and use any of your 22" acoustic bass drums with your TD-50. This is possible in its newest model, the TD-50KVX which comes with a higher price.
It is the best professional electronic drum kit with advanced multi-sensor which mimics the natural response of an acoustic drum set. Ghost notes, cross-sticking, rimshots, and cymbal swells are all possible with this drumkit.
Famous drummers such as Butch Vig, Nick D'Virgilio, Jordan West, and Sekou Lumumba were among the famous musicians to give a review on this professional-level kit.
"It's incredibly expressive. I love the sound that you can now blend in my custom samples with the acoustic samples which are extraordinary in the TD50.", Butch Vig said. "You know it's not possible ten years ago."
All in all, Roland TD-50 KV offers a great drumming experience for the most advanced drummers. It can withstand live performances and tours and is also ideal for studio recording due to its advanced drum module.
There are countless possibilities and options that you can do in this kit. Highly recommended if you want to invest your money in a top-notch electronic drum set.
---
3. Roland TD-17KVX – Best drum set for beginners
Alternatively, if you do not have enough budget yet to invest in the exclusive Roland TD-50 series, but you want more features and a more advanced electronic kit than the Alesis Nitro kit, then you might want to consider Roland TD-17KV.
This electronic drum set is more expensive than most average electronic drum kits. However, its exclusive features together with its high-quality hardware, cymbals, and mesh pads outweigh the price of this kit.
It has gained a respectable reputation in 2018 when it topped as the "Best Electronic drum kit" by Musicradar's readers. This achievement is enough to prove that this electronic drum kit is something that you'd recommend even to a professional, seeking a reliable jamming and performance equipment.
Another edge of the Roland TD-17 over its competitors is its high-tech brain module, which allows you to choose from a variety of high-end drum and percussion sounds that you prefer for your on-stage performances.
The kit itself is an excellent choice with a response and sound quality close to that of an acoustic drum set. From its PDX-8 mesh toms, PDX-12 mesh snare, KD-10 Bass drum, and authentic cymbal pads, this kit provides a closer feel to a professional drum set that would leave you breathless.
It also offers Bluetooth connectivity, sample saving, and coaching functions, which are all exclusive in this affordable kit.
Finally, it offers time-check, and quiet count functions ideal for professionals and beginners alike who aims to improve their consistency and internal clock.
---
4. Pearl EXX725/C 5-Piece Export Standard Drum Set with Hardware
For thirty years, the Pearl Export Series Drum set has dominated the sales in the acoustic drum market. It remains to be one of the most legendary & best drum sets, which is still favored and recommended by the most advanced drummers.
Whether for on-stage performances or studio recordings, this acoustic kit would surely fit and satisfy your drumming needs.
Pearl EXX725/C is a 5-piece drum set that comes in a bundle with the newest 830 Series Hardware, Opti-Loc Tom mounts, and P930 drum pedal.
The shells are made up of 6-ply maple which produces a warm sound. The lugs are well-designed to provide consistent tension, preventing the drums to go out of tune frequently.
The items stated above are considered the most trusted and the most durable parts that you can purchase and use for your setup. The durability of these items together with the sound quality of the drums have jumpstarted thousands of drummers in their career.
Casey Cooper, Michael "Moose" Thomas, and Jason Bowld were among the most famous drum legends who trusted the quality of the Pearl Export Series.

Casey Cooper, who runs one of the most subscribed drumming channels on YouTube, has trusted the Pearl Export Series for more than 7 years of his drumming career.
Pearl Export Series is ideal for the most productive professionals, looking to invest in an affordable drum set that comes with a competent quality.
---
5. Yamaha Stage Custom Birch
Yamaha is one of the oldest companies to produce the fanciest yet durable drum sets.
Most people who used this product are satisfied with how the drum set sounds and looks with its high-gloss lacquer finish. It weighs less than most of the professional-level drumkits which is a major advantage for the touring drummer.
The lugs of this drum kit are well-designed to deliver a magnificent tone and sustain. Furthermore, Yamaha has made great efforts to maintain the quality of its production, ensuring that the Shell packs are perfectly round and of uniform thickness to endure and to achieve a professional drummer's expectations.
Some of the most notable drummers to use a Yamaha Stage Custom Birch are Alan Wilder, and Mark Greening.
If you want to save up some money before investing in further upgrades, or custom kits, Yamaha Stage Custom is an excellent choice.
The positive feedback, both from buyers, and professionals could not mislead or disappoint your needs and expectations as a professional drummer.
With its durability, quality, and grandeur, not only will you look more professional but also sound more astounding, as a professional drummer should be.
---
6. Tama Starclassic Maple Drum Set
Tama Starclassic is quite a head-turner, especially for several experienced metal drummers.
It has gained its fame after Lars Ulrich, the metal drummer of Metallica has used this drum set.
The buyers of this product attested how the product was well-packaged and well crafted, starting from its drum shells, drum heads, hardware, hoops, and other components that make up a solid full-size TAMA kit.
It comes with a lustrous exotic finish that catches the eye, available in astonishing colors that are sure to make you look the most stylish professional.
The thin Maple shells produce a dense puffy sound that can offer you the best dynamic and tuning range.
Each drum has a round bearing edge which allows the head to fit naturally on the shell, resulting in the unique TAMA sound that has been the standard for several musicians and drummers.
The die-cast hoops of the professional drums are perfectly designed to remain aligned with the tension bolts, to allow more accurate tuning.
Toms are mounted using TAMA's top of the line swivel wing and Star-Cast mounting system, which provides the best stability without compromising tonal vibration and resonance of the toms.
Hold tight washers, and air-cushioned legs also reinforce the drum kit's stability and durability.
The Tama Starclassic is an excellent choice for hard rock/metal drummers because it comes with good quality Evans drum heads, durable hardware, fancy appearance, and powerful sound which are all essential for your professional drumming.
---
7. Gretsch Catalina Maple Series
The Catalina Maple Series is an exceptional complete drum set distinguished by its beefy bass drum, warm and sustained tom, and a clear bright snare sound, all finished and designed to achieve a classic, vintage look.
Gretsch is one of the top producers of the best professional drum sets since 1927.
It has fueled the passion of several drummers even before they reach the peak of their drumming careers, such as Taylor Hawkins, Tony Williams, and Max Roach.
With the remodeling of the Catalina Maple Series in 2011, Gretsch has given the Catalina Series a fresh novel look, with a cleanly cut bearing edge of 30-degrees, allowing more surface of contact between the head and the shell.
This change has made the Catalina Maple stand out especially in Jazz drumming because of its sustainable, deep, warm sound.
It is made up of 7-ply maple, available in five unique colors such as Satin deep cherry burst, walnut glaze, silver sparkle and Black Stardust.
You can also purchase this product as a 4-piece, 5-piece or even a 7-piece set, depending on the configuration you prefer.
Most professional Jazz drummers such as Fidel Morales prefer the 4-piece configuration of this drum kit, because it offers an easier transition between the drums, allowing the drummer to have smoother and better control.
Other notable professionals who used this kit are Rachel Fuhrer and Paul Eckberg.
If you want to know what made Gretsch a phenomenal choice of several drummers and artists, it's about time to try the Catalina Maple for yourself.
---
8. PDP By DW Concept Maple Shell Pack
Drum Workshop Inc. has established Pacific Drums and Percussion company in 1999 to provide drummers all over the globe with the distinct DW sound at a much affordable price.
The Concept Maple is one of PDP's bestselling products, which offers DW's high-quality craftsmanship and features that you cannot find elsewhere at an affordable price.
This drum set is one of the best deals that you can get if you are after a high-quality shell pack featuring a full size 18×22 bass drum, 8×10 and 9×12 mounted toms, and a 14×16 floor tom.
You can buy this kit as a 5-piece drum set or as a 7-piece kit, all lacquer finished and constructed from 7-ply Maple that offers a bright warm sound with a diverse tuning range.
Both configurations include a 14×5.5 snare drum, made up of 10-ply Maple, with DW's original MAG Snare throw off that allows horizontal tension adjustment for better control over unwanted snare buzz.
The kit has an impressive set of hardware such as the die-cast bass drum claw hooks, dual lugs, and pitch tension rods that are all guaranteed to stand out and remain durable.
Jaz Sawyer, Mika Fineo, and Cobus Potgieter were among the famous drummers who had first tested the quality of this high-end drum set since 2012.
Whatever type of music you play, the PDP Concept Maple will surely meet your expectations as a professional drummer. It is a versatile, durable, and a magnificent kit with the high-end quality of a DW Drum, for a much lower price.
---
9. Pearl Masterworks Kit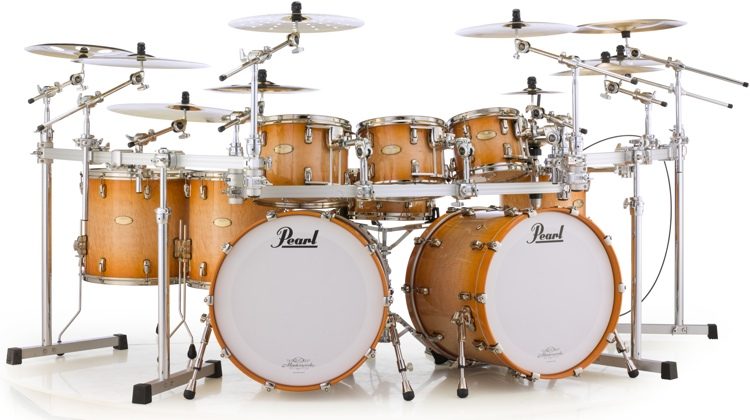 Pearl Masterworks is one of the most trusted and top-grossing custom-made drum set.
For every inch of this drumkit, you cannot help but notice the quality and elegance that has made Pearl the prominent choice for thousands of professional drummers worldwide.
It allows you to choose from a wide variety of options, from its finishes, shell sizes, thickness, hardware, and even exterior/interior material.
You can either choose from their pre-tested drum recipes or build every detail of your dream kit.
Pearl Masterworks kit also gives you the option to specify hybrid shells and thickness.
With this feature you can combine different shell materials and specify the number of plies for each type to provide a wider tuning and dynamic range.
You can choose the size of the Bass drum from 18 inches to 26 inches in diameter, available in different depths to deliver your signature sound.
If one Bass drum is not enough, you can specify two sizes for two bass drums or add a double bass drum pedal instead.
The floor toms, the mounted toms, and the snare drum come with Pearl's top of the line hardware available in impeccable colors and designs.
David Astor, Nick Augusto, and Matt Halpern were among the famous artists who experienced the glory of the Pearl Masterworks firsthand.
If you are looking for a custom-made kit with a wider range of options at a relatively lower price, the Pearl Masterworks kit is such a beauty to behold.
---
10. DW Collector's Series/Performance Series
If the price is not a problem for you, and you want to step up your acoustic drum kit to the most glamorous level, you might want to consider buying a DW Collector's Series. Quality-wise, DW produces the most enduring and best drum kits that could withstand professional tours, and performances for several years.
It is made in the USA and utilizes the most high-quality construction materials for the drum shells, hardware pieces, and drum heads.
So, what exactly separates DW drums among other professional-level drum kits?
Aside from the quality of materials, high-end finish, and aesthetic appearance, DW offers you the choice to customize your drumkit. You can choose from a variety of options starting from the wood of the drum shells, shell thickness, drum heads, sizes, finish, color, and even snare specifications, to create your ideal drum set.
The only drawback of this drum set is its price. Since you are customizing an acoustic drum, construction materials are specially handpicked by DW and hence, require a greater price.
If you do not want to customize every detail of your drum set, you can purchase drum sets readily made under the Collector's Series which usually comes as a four-piece set.
Most packages available online under the DW Collector's series do not include the snare drum, cymbals, and hardware, which are all bought separately.
Alternatively, if you do not have the budget yet to buy such a luxurious drum set, you might want to consider buying a DW Performance Series kit instead.
This drum kit is perfect for the most ambitious professionals and offers the same high-end quality as a Collector's drumkit, at a lower price.
Tony Royster, Nisan Stewart, Derek Roddy, John JR Robinson, and several other famous professional drummers favor the exquisite DW Performance Series Kit. It has also earned a great reputation and positive reviews from famous drummers such as Nick D'Virgilio, and Felix Lehrmann.
Conclusion:
Buying the right professional drum set is not a simple choice to make.
Researching about unique products from different trusted brands can help you evaluate the type of drum set that will best suit you.
Presented from this article are some of the best acoustic and electronic drum sets that offer the highest quality and durability.
Before you buy anything, consider first where you'll mainly use the kit, and how do you plan to set it up.
Someone who focuses more on jazz drumming might have different preferences over a professional rock drummer, and so on.
We highly recommend that you consider or prioritize buying a drum set that would best match your playing preference and style.
While there are no professional drum sets that would fit for everyone, there are always better options available.
For electronic drum sets, we recommend kits with an advanced brain module, mesh pads, and high-end multi-level sensors.
Electronic kits with such qualities have quicker response time and offers an incredible playing experience, suitable for your live performances or rehearsals.
For acoustic drums, the wood type, shell thickness, exterior finishes, hardware quality, drumhead, drum sizes, and bearing edges are all important considerations that can affect the overall sound of your drum set.
Keeping these considerations in mind will allow you to choose the best drum kit for your professional pursuit as a drummer.
Ordering a customized drum set can be more expensive, but it would ensure the exact qualities you prefer for your setup.
This is ideal for the most advanced professionals who are extra sensitive when it comes to sound quality, tonal, pitch, and dynamic range.