Last Updated on August 13, 2021 by Danny
With several brands and products available today in the market, it is challenging to choose the best drum set that would suit your style, preference, and budget. If you are planning to buy your own acoustic drum set for studio recordings, live performances, or gigs, there are several considerations before investing in a quality drum set. Most known drum brands such as TAMA, Pearl, Gretsch, or Roland, offer high-level kits at prices ranging from less than a thousand dollars to almost $9000.
These drum manufacturers often sell professional acoustic drum sets only with the shell pack, consisted mainly of the bass drum, rack toms, and floor toms while we have also added some complete drum sets. Additional hardware and pieces such as the cymbals, drum throne, snare stand, cymbal stands, and bass drum pedal are separately bought. For high-end kits, most manufacturers offer advanced drum modules that come hand in hand with quality mesh pads and durable drum racks.
Top Pick
Tama Imperialstar Drum Set (IE52CCPM)
Value for Money
DW Design Series 5-Piece Lacquer Shell Pack
Budget Pick
Yamaha Stage Custom Birch 5pc Drum Shell Pack
To help you decide, we have featured the 10 best drum sets which are available in the market and were used by famous artists and drummers.
10 Best Drum Sets for the Money
As a professional drummer, aside from your skills, technique, and style, the type, appearance, and sound of your drum kit would leave a lasting impression on your audience. A decent drum set might help you get through your gigs and performances, but the best quality kits would make you look and sound more professional.
Although there are other products of the same quality and durability, we consider these ten drum sets the most suitable for your professional needs, trusted and recommended by the most famous drummers and artists.
---
First, at the top of our list is the TAMA Imperialstar drum set. TAMA is known for creating some of the best sounding drum sets. Proven and tested by some of the most famous musicians and drummers such as Mike Portnoy and Simon Phillips, TAMA drum sets have always been top choices in the professional community.
The Imperialstar is a complete stage-ready drum set. It comes with a Meinl HCS cymbal set containing 14-inch hi-hats, a 20-inch ride, and a 16-inch crash. You can buy either a 5-piece or a 6-piece acoustic drum set, and these cymbals would still be yours. The only thing you need to buy separately is a pair of drumsticks, and you're good to go.
All hardware such as the kick pedal, drum throne, cymbal, and mounting stands, are all provided upon purchase, so you don't have to worry about buying separate ones unless you are looking for other products to suit your preference. However, looking at the bigger picture, the quality of the cymbals, hardware, and the poplar drum shells compete with top-end drum sets.
It has the qualities and durability of the best drum kits on the market. [You can read its full review here]. Furthermore, the wrap finishes are glued to the poplar shells to eliminate possible lifting and buzzing. This craftsmanship feature is unique to TAMA Imperialstar, making it an excellent choice beyond its price point.
---
The DW Design Series is one of Drum Workshop's bestselling drum sets of all time. It is lighter than most of DW's top drum sets, which makes it a perfect choice for your traveling performances. The only drawback to this kit, which is consistent with all DW's drum sets, is its price. However, as testified by several satisfied customers online, this is worth your money.
The DW Design Series is a 5-piece acoustic drum shell pack made of seamless acrylic shells, designed with DW's pro features such as True Pitch Tuning, MAG Throw off, and exclusive DW Heads by REMO. The DW Suspension tom mount is sold separately for a minimal price.
With these features, you can achieve whatever your drumming goals are at the professional level without having to worry about drum replacement or repairs any time soon. If you are looking for a full acrylic drum set, capable of providing a focused, fat sound, this should be on the top of your list. The excellent craftsmanship of DW is evident in this product, and its sound quality is perfect for a wide variety of musical genres.
If you can't afford to buy DW's exclusive custom drums yet, the DW Design Series is the best option without any downgrade in terms of quality and craftsmanship. Getting this product might be expensive, but it is undoubtedly one of the best high-end acoustic kits for professional use.
---
If you have ever dreamed of becoming a drum legend, you know that Ludwig is one of the greatest drum brands. For several decades, Ludwig has made some professional-level sets for pro drummers such as Ringo Starr, famously known as the drummer for the Beatles. The Ludwig Element Evolution named one of the highest-rated acoustic drum sets on the market and that has earned positive drum set reviews. You'll get a complete acoustic drum set with hardware and a Zildjian cymbal set for a considerable price.
The hardware set included is made of higher-quality materials, designed for maximum convenience and control. The drum throne is height adjustable; the boom cymbal holder is the perfect gear to set your cymbals' position and the angle at the right configuration. Like the Imperialstar, this is labeled as an intermediate kit, durable and suitable enough for early-stage performances and studio recordings. The resonant 6-ply poplar shells deliver a deep tone and punch. The coated snare drum muffles excessive overtones but contributes to the crisp sound Ludwig is known for.
Overall, you can't go wrong with Ludwig's Element evolution. Its price, features, hardware, and craftsmanship rank higher than more expensive drum sets. Whether you are just starting to learn your first drum fills or preparing for a major weekend gig, this is an excellent investment for the best drum set under $1000.
---
For thirty years, the Pearl Export Series Drum set has dominated the sales in the acoustic drum market. It remains to be one of the most legendary & high-end professional-level drum sets, which is still favored and recommended by the most advanced drummers. Whether for on-stage performances or studio recordings, this acoustic kit would surely fit and satisfy your drumming needs.
Pearl EXX725/C is a 5-piece drum set that comes in a bundle with the newest 830 Series Hardware, Opti-Loc Tom mounts, and P930 drum pedal. The shells are made up of 6-ply maple which produces a warm sound. The lugs are well-designed to provide consistent tension, preventing the drums to go out of tune frequently.
The items stated above are considered the most trusted and the most durable parts that you can purchase and use for your setup. The durability of these items together with the sound quality of the drums have jumpstarted thousands of drummers in their career.
Casey Cooper, Michael "Moose" Thomas, and Jason Bowld were among the most famous drum legends who trusted the quality of the Pearl Export Series. Casey Cooper, who runs one of the most subscribed drumming channels on YouTube, has trusted the Pearl Export Series for more than 7 years of his drumming career.
Pearl Export Series is ideal for the most productive professionals, looking to invest in an affordable drum set that comes with a competent quality.
Read the full Pearl Export review
---
Yamaha is one of the oldest companies to produce the fanciest yet durable and good drum sets. Most people who used this product are satisfied with how the drum set sounds and looks with its high-gloss lacquer finish. It weighs less than most of the professional-level drumkits which is a major advantage for the touring drummer.
The lugs of this drum kit are well-designed to deliver a magnificent tone and sustain. Furthermore, Yamaha has made great efforts to maintain the quality of its production, ensuring that the Shell packs are perfectly round and of uniform thickness to endure and to achieve a professional drummer's expectations.
Some of the most notable drummers to use a Yamaha Stage Custom Birch are Alan Wilder, and Mark Greening.
If you want to save up some money before investing in further upgrades, or custom kits, Yamaha Stage Custom is an excellent choice. The positive feedback, both from buyers, and professionals could not mislead or disappoint your needs and expectations as a professional drummer. With its durability, quality, and grandeur, not only will you look more professional but also sound more astounding, as a professional drummer should be.
---
Tama Starclassic is quite a head-turner, especially for several experienced metal drummers. It has gained its fame after Lars Ulrich, the metal drummer of Metallica has used this drum set.
The buyers of this product attested how the product was well-packaged and well crafted, starting from its drum shells, drum heads, hardware, hoops, and other components that make up a solid full-size TAMA kit. It comes with a lustrous exotic finish that catches the eye, available in astonishing colors that are sure to make you look the most stylish professional.
The thin Maple shells produce a dense puffy sound that can offer you the best dynamic and tuning range. Each drum has a round bearing edge which allows the head to fit naturally on the shell, resulting in the unique TAMA sound that has been the standard for several musicians and drummers. The die-cast hoops of the professional drums are perfectly designed to remain aligned with the tension bolts, to allow more accurate tuning.
Toms are mounted using TAMA's top of the line swivel wing and Star-Cast mounting system, which provides the best stability without compromising tonal vibration and resonance of the toms. Hold tight washers, and air-cushioned legs also reinforce the drum kit's stability and durability.
The Tama Starclassic is an excellent choice for hard rock/metal drummers because it comes with good quality Evans drum heads, durable hardware, fancy appearance, and powerful sound which are all essential for your professional drumming.
---
The Catalina Maple Series is an exceptional complete drum set distinguished by its beefy bass drum, warm and sustained tom, and a clear bright snare sound, all finished and designed to achieve a classic, vintage look.
Gretsch is one of the top producers of the best professional drum sets since 1927. It has fueled the passion of several drummers even before they reach the peak of their drumming careers, such as Taylor Hawkins, Tony Williams, and Max Roach. With the remodeling of the Catalina Maple Series in 2011, Gretsch has given the Catalina Series a fresh novel look, with a cleanly cut bearing edge of 30-degrees, allowing more surface of contact between the head and the shell.
It is made up of 7-ply maple, available in five unique colors as Satin deep cherry burst, walnut glaze, silver sparkle, and Black Stardust. You can also purchase this product as a 4-piece, 5-piece, or even a 7-piece set, depending on the configuration you prefer.
Most professional drummers such as Fidel Morales prefer the 4-piece configuration of this jazz drum set, because it offers an easier transition between the drums, allowing the drummer to have smoother and better control.
Other notable professionals who used this kit are Rachel Fuhrer and Paul Eckberg. If you want to know what made Gretsch a phenomenal choice of several drummers and artists, it's about time to try the Catalina Maple for yourself.
Read the full Gretsch Catalina Maple review
---
Drum Workshop Inc. has established Pacific Drums and Percussion company in 1999 to provide drummers all over the globe with the distinct DW sound at a much affordable price. The Concept Maple is one of PDP's bestselling products, which offers DW's high-quality craftsmanship and features that you cannot find elsewhere at an affordable price.
This drum set is one of the best deals that you can get if you are after a high-quality shell pack featuring a full size 18×22 bass drum, 8×10 and 9×12 mounted toms and a 14×16 floor tom. You can buy this kit as a 5-piece drum set or as a 7-piece kit, all lacquer finished and constructed from 7-ply Maple that offers a bright warm sound with a diverse tuning range.
Both configurations include a 14×5.5 snare drum, made up of 10-ply Maple, with DW's original MAG Snare throw off that allows horizontal tension adjustment for better control over unwanted snare buzz. The kit has an impressive set of hardware such as the die-cast bass drum claw hooks, dual lugs, and pitch tension rods that are all guaranteed to stand out and remain durable.
Jaz Sawyer, Mika Fineo, and Cobus Potgieter were among the famous drummers who had first tested the quality of this high-end drum set since 2012.
Whatever type of music you play, the PDP Concept Maple will surely meet your expectations as a professional drummer. It is a versatile, durable, and a magnificent kit with the high-end quality of a DW Drum, for a much lower price.
---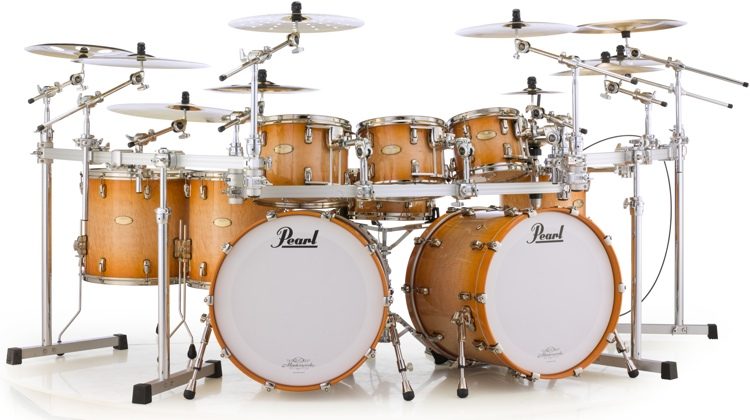 Pearl Masterworks is one of the most trusted and top-grossing custom-made drum set. For every inch of this drumkit, you cannot help but notice the quality and elegance that has made Pearl the prominent choice for thousands of professional drummers worldwide. It allows you to choose from a wide variety of options, from its finishes, shell sizes, thickness, hardware, and even exterior/interior material.
You can either choose from their pre-tested drum recipes or build every detail of your dream kit. Pearl Masterworks kit also gives you the option to specify hybrid shells and thickness. With this feature, you can combine different shell materials and specify the number of plies for each type to provide a wider tuning and dynamic range.
You can choose the size of the Bass drum from 18 inches to 26 inches in diameter, available in different depths to deliver your signature sound. If one Bass drum is not enough, you can specify two sizes for two bass drums or add a double bass drum pedal instead. The floor toms, the mounted toms, and the snare drum come with Pearl's top of the line hardware available in impeccable colors and designs.
David Astor, Nick Augusto, and Matt Halpern were among the famous artists who experienced the glory of the Pearl Masterworks firsthand.
If you are looking for a custom-made kit with a wider range of options at a relatively lower price, the Pearl Masterworks kit is such a beauty to behold.
---
10. DW Collector's/Performance Series Drum Set
If the price is not a problem for you, and you want to step up your acoustic drum kit to the most glamorous level, you might want to consider buying a DW Collector's Series. Quality-wise. DW produces the most enduring and best sounding drum sets that could withstand professional tours, and performances for several years. It is made in the USA and utilizes the most high-quality construction materials even you can choose from a variety of options starting from the wood of the drum shells, shell thickness, drum heads, sizes, finish, color, and even snare specifications, to create your ideal drum set.
So, what exactly separates DW drums among other professional-level drum kits?
Aside from the quality of materials, high-end finish, and aesthetic appearance, DW offers you the choice to customize your drumkit.
The only drawback of this drum set is its price. Since you are customizing an acoustic drum, construction materials are specially handpicked by DW and hence, require a greater price. If you do not want to customize every detail of your drum set, you can purchase drum sets readily made under the Collector's Series which usually comes as a four-piece set.
Most packages available online under the DW Collector's series do not include the snare drum, cymbals, and hardware, which are all bought separately. Alternatively, if you do not have the budget yet to buy such a luxurious drum set, you might want to consider buying a DW Performance Series kit instead.
This drum kit is perfect for the most ambitious professionals and offers the same high-end quality as a Collector's drumkit, at a lower price.
Tony Royster, Nisan Stewart, Derek Roddy, John JR Robinson, and several other famous professional drummers favor the exquisite DW Performance Series Kit. It has also earned a great reputation and positive reviews from famous drummers such as Nick D'Virgilio, and Felix Lehrmann.
Looking for a drum kit for your child? These are the best drum sets for kids or Check out the best mini drum set for all levels
Conclusion:
Buying the right professional drum set is not a simple choice to make. Researching about unique products from different trusted brands can help you evaluate the top acoustic drum sets to buy that will best suit you. Presented from this article are some of the best drum set that offers the highest quality and durability.
We highly recommend that you consider or prioritize buying a drum set that would best match your playing preference and style. While there are no professional drum sets that would fit everyone, there are always better options available.
For acoustic drums, the wood type, shell thickness, exterior finishes, hardware quality, drumhead, drum sizes, and bearing edges are all important considerations that can affect the overall sound of your drum set. Keeping these considerations in mind will allow you to choose the best drum kit for your professional pursuit as a drummer.
Ordering a customized drum set can be more expensive, but it would ensure the exact qualities you prefer. This is ideal for the most advanced professionals who are extra sensitive when it comes to sound quality, tonal, pitch, and dynamic range.
Do you also prefer the best electronic drum sets for all budgets…or the best beginner drum sets