Last Updated on July 28, 2021 by Danny
There are plenty of reasons to get new drum heads, but how do you choose which drum head is best for you? The drumhead market is an immense one, and you can easily get lost in the vast array of different companies and products out there. To help you out, we have compiled the list of the best drum heads available in the market for snares, toms, and bass too.
It's always better to get high-quality drumheads, even though they are quite expensive, as they sound incredible and tend to last much longer than low-end ones. If you are not sure what the various features we have discussed, there is even a buyer's guide at the end of the article to better understand the terminologies related to drum heads.
Best Snare Drum heads
---
Remo Emperor X
Pros
Extremely durable
Reverse dot prevents unwanted overtones
A warm and controlled sound
The Remo Emperor X coated is a prevalent coated snare drum head among professionals. It is made of 10 mil thick Mylar, combined with the coated surface, making it extremely durable. It is considered to be one of the most durable snare drum heads in the market.
The sound of this head is much lower than the other snares heads in this list. It is very responsive, irrespective of whether you caress it with a brush or smash it with drumsticks. The overall tone is quite warm and pleasant. The Remo Emperor coated features a five mil reverse black dot, eliminating all the unwanted overtones, giving you a crisp and clear sound with every stroke. This reverse dot also gives it a much more premium look on stage.
The head design also makes it extremely easy to control the output sound. The incredible durability combined with articulate control makes the Remo Emperor X a favorite among rock drummers and other heavy-hitting musicians. This coated snare is available in sizes ranging from 10″ to 14″, so most snare drums can accommodate it.
---
Evans EC Reverse Dot
Pros
Long-lasting
Has Evans Level 360
Available in a range of sizes
Easy to tune
Perfect tone
Cons
The reverse dot can fall off
The Evans EC Reverse Dot is another prevalent snare head. It is a double-ply drum head that features an inner 10 mil ply and an outer 7 mil ply. This makes it extremely durable and is ideal for hard-hitting drummers. This head will be able to take the beating necessary for high volume drumming.
The Evans EC uses their "Edge Control" technology, which removes any of the midrange overtones. This gives this head an extremely balanced tone. The added thickness of this drum makes it sound quite warm and gives it more control. There are very minimal overtones due to the included dot and control rings, making the sound very focused. This also leads to a short sustain with minimal ringing. While it does produce a controlled sound, it can still retain a good amount of resonance. This drum also has Evans Level 360 feature that ensures a higher contact and better balance between the head and drum. It also provides an expanded tonal range.
As the name suggests, the Evans EC has a reverse dot. This dot is found on the underside of the head and provides improved attack and control. Since the dot is on the underside, you will use brushes with this more comfortably. It also ensures that it does not interfere with stick usage. However, if you are not comfortable with the reverse dot, there is also a dot-less variant. Like the Remo Emperor, the Evans EC is also available in sizes ranging from 10″ to 14″. You could even plug them into toms if you want a short and focused sound.
---
Aquarian Triple Threat
Pros
Durable
Requires very little processing
Wide tuning range for a triple-ply
Suited for studio work
Cons
Only available in 13″ and 14."
This is the first triple-ply drum head on this list. The Aquarian Triple Threat is made of three plies of seven mil thick Nu-Brite Film. This brings the total brightness up to 21 mils, which gives it a dry and weighty tone. Most triple-ply heads tend to have a very non-musical and fat sound unless they are tuned too tight; however, the Triple Threat can sound musical irrespective of how loose or tight you tune it. This head is especially able to cut through loud mixes when tuned high while still maintaining the right tone and avoiding a very short sustain.
Even though its triple ply design makes it quite thick, it is still able to remain responsive. It's able to deliver powerful cracking rim shots and can endure heavy hitters without any issues. The overall sound is warm and fat, and it also provides a good attack.
It also features a patented Z-100 coated head that delivers excellent sound with durability. In addition to this, it also has several other unique features like the Safe-T-Lock hoop and the Sound-Curve Collar. This head's sound is perfect for studio work as it is crisp and clear and requires very little processing. The only drawback is that it is available only in 13″ and 14″ sizing, so if you have a small snare, you will not be able to use this.
Best Drum Heads for Toms
---
Remo Ambassador Coated
Pros
Cheap
Multiple sizes available
The most popular tom drum head
Cons
Not suitable for a heavy hitter
If you are uninformed about something, it is best to go with the most popular option. Based on that rule, we would say that you should get the Remo Ambassador if you are unsure of how to choose your tom heads. The Remo Ambassador Coated snare head is the most popular tom head in the market, which is not surprising considering that the Ambassador is the most popular line from Remo.
The coating on top of the Ambassador allows it to have a very warm and open sound along with a controlled sustain. It is not particularly suited for heavy music but delivers amazingly in musical styles that need a natural tone with warmth. It is a single-ply drum head that's 10 mil thick, which means it won't last very long if played hard.
This drum is incredibly popular because of two reasons, its fantastic sound and low cost, both of which make it extremely suited for beginners. While it is recommended for beginners, advanced drummers don't have to shy away from it as it is still an excellent drum head. It is perfect for genres like jazz and pop. However, hard rock and rock metal drummers might want to avoid it as it is not very durable and sounds too warm for those genres. If you are a beginner interested in pop or jazz, this is the drum head you have to get. It is available in sizes ranging from 6″ to 40″. The Remo Ambassador is not restricted to toms, and you can even use it for your snare and your kick drum.
---
Remo Pinstripe Clear drum heads
Pros
Durable
Extremely popular
Very responsive
Full range punchy sound
Cons
It needs to be a bit brighter for jazz and pop
The Pinstripe is another popular series of tom heads from Remo. This is a classic drumhead that has been around for many years and has remained a constant presence in the drumming community. It is a double-ply design made of 7 mil clear films as both the outer ply and inner ply. Between the two layers, there is a reducing agent that helps tame mid-range overtones.
This head is insanely popular among Rock, Pop, and R'n'b Artists. Stewart Copland of the Police and Matt Cameron of Pearl Jam have these heads in their kits. This is because these heads have great control on overtones and have a fantastic attack. They can deliver a rich and powerful sound that not only has a clear mid-range but even a tremendous low-end tone. In addition to sounding great, these are also quite resilient and will be able to last for a long time, even in the hands of the most enraged hard rock drummer. However, if you are a jazz player, you might want to go for brighter drumheads. If you need fat sounds with an incredible low-end sound along with good attack and responsiveness, this will be perfect for you.
These drumheads are available in a vast range of sizes, from as small as 6″ to even monstrous 30″ ones. These toms are available in multiple standard configurations like 10, 12, 14, or 13, 14, and 16. You can easily find one suited to your personal preference and kit size.
---
Aquarian drum heads TCFX14 Coated Focus-X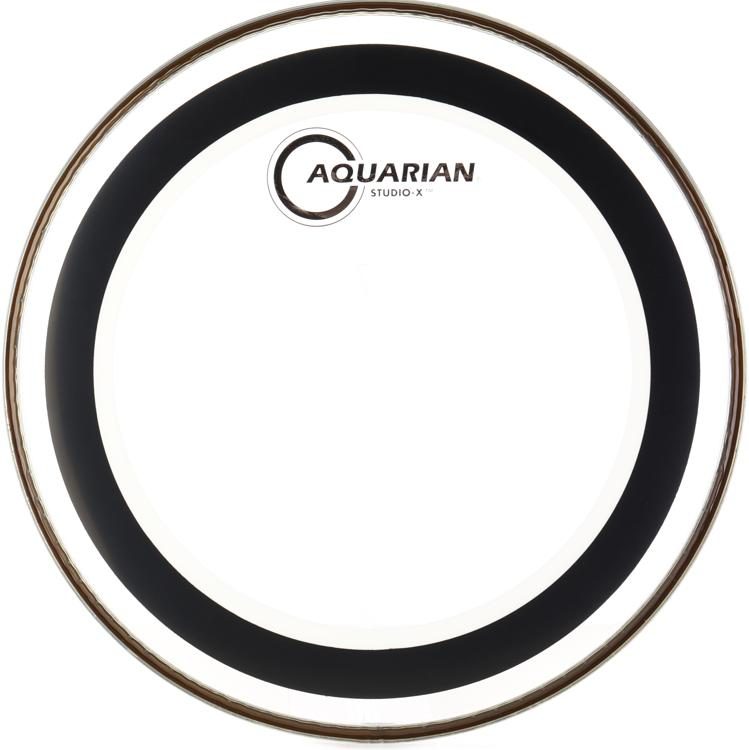 Pros
Wide tuning range
Pre-dampened
Fat sound
This a coated 10 mil thick single-ply tom drum head that is unique. It is muffled using a custom-designed inlay ring that enables it to produce crisp and clear sounds while remaining sensitive at the same time. The ring achieves this crisp sound by removing all unnecessary rings and overtones.
The sound is one of the most focused heads you can find in any of the market's tom heads. It can produce a very fat low-end sound without needing any additional products. Overall, it is a very dry sound that doesn't require any additional dampening. The tuning range is extensive, and you'll be able to optimize this for a variety of different genres. However, if you want to use it for swishing brushes, it doesn't sound great. This makes it less optimal for jazz players. There is also a Power Dot version for those who are interested in that.
Best Bass Drum heads
---
Evans EMAD2 Clear Bass Drum Head (Most versatile Bass head)
Pros
Extremely Versatile
Easy to tune
4″ microphone port
It comes in all standard bass sizes
The EMAD2 from Evans is an extremely versatile bass drum head. It comes with an externally mounted adjustable dampening system that you can set up to your liking. You can choose between the thin or wide ring, with each having its unique tone. The thinner ring delivers a good punch but still retains its resonance, but the wider one has a potent low and maximum attack. By adjusting these rings, you will create any sound that you desire, making it one of the most versatile kick drum heads. The Evans EMAD2 is a 2 ply drumhead with a 10 mil inner ply and a 6.5 mil outer ply. You can get it in sizes between 18″ and 26″ and will fit all bass drums. There is even a microphone port on the resonant head, and this makes it a dream head for studio work.
If you want supreme control over his kick drum, this would be the perfect head for you. Anyone who plays multiple genres would find the Evans EMAD2's versatility to be extremely advantageous. The head looks pretty good on stage too. However, beginners should stay away from this one as they wouldn't have the skills to reap this drum head's benefits.
---
Remo Powerstroke P3 Clear Bass Drum head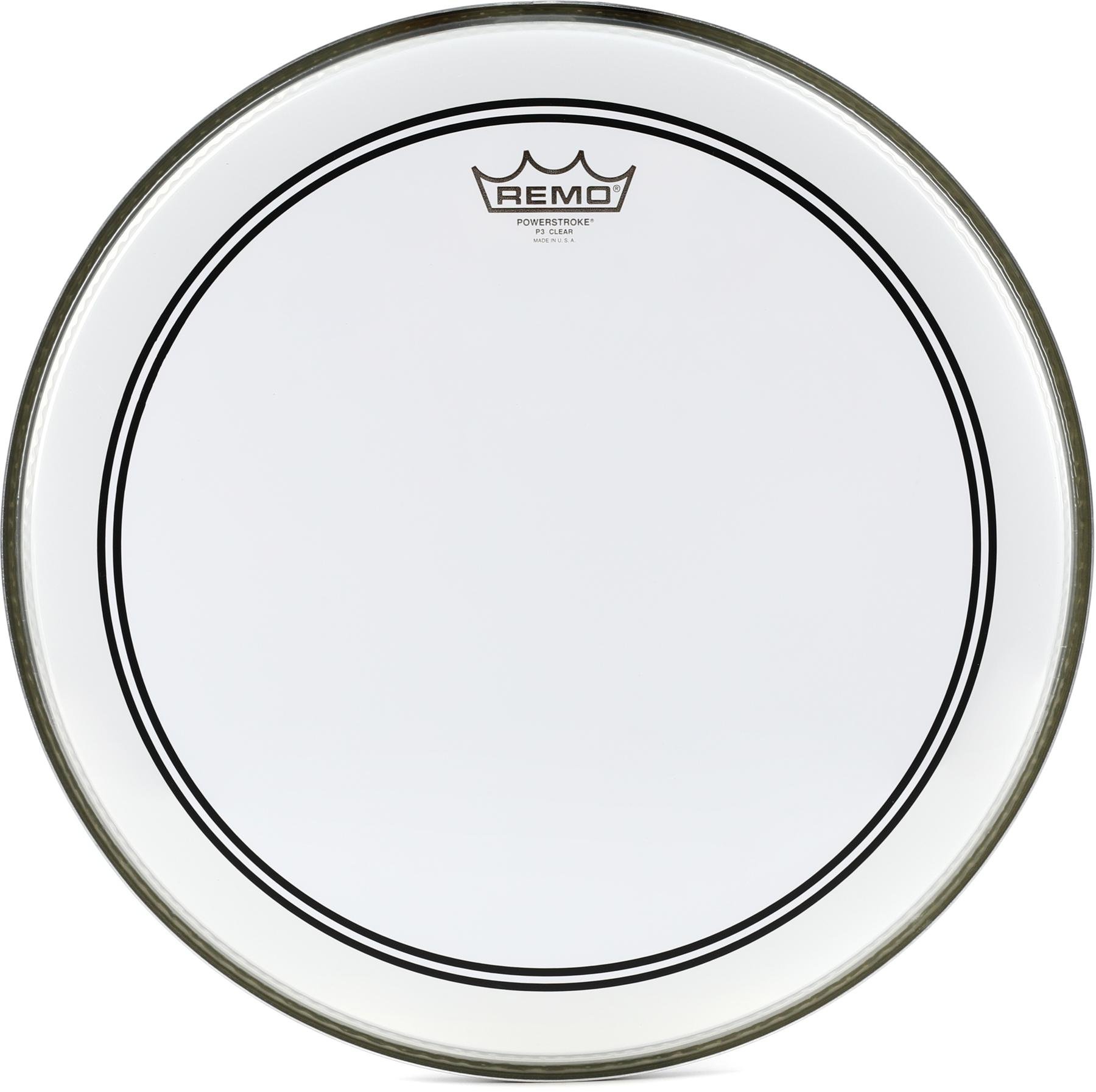 Pros
Wide size range available
Well balanced control and responsiveness
Pre-Muffled
Durable for a single-ply
Cons
Can be a little boomy is dampened too much
The Remo Powerstroke P3 clear is an excellent bass drum head for rock drummers. It is made of a single-ply 10 mil thick clear film and has a 10 mil underlay ring. This gives the P3 an extremely powerful yet focused sound. The underlay ring can effectively control overtones without taking the breath out of your kick drums. While it has dampening built-in, it is subtle and doesn't cause any resonance loss. If you aren't happy with the dampening, you can always stuff a pillow into the kick drum. However, if you dampened it a lot, it tends to sound a little boomy.
The clear version of the Remo Powerstroke has much higher brightness and attack than the coated ones. This brightness quickly fades into a short but warm sustain due to better control. When you tune it low, it produces a short cutting punch while producing a sharply focused sound when tuned high. The single thin ply allows it to be quite sensitive when played at low volumes, but it can still be used for medium and high-volume drumming. However, if you intend to do thunderous drumming, you'll probably need a microphone to be able to hear these heads.
You get warm sounding low and midrange tones that can be perfected for multiple genres. It also has an outstanding balance of responsiveness and control. Even though it is just a single-ply head, it is incredibly durable. If you can break through this, you will surely break through a double-ply head. The Remo Powerstroke is not limited to bass drums, with both snare and tom options available. You get a range of sizes, from 6″ to 36″ big. There are also plenty of variants on the P3.
---
Aquarian SuperKick II (Best muffled)
Pros
Amazing pre-muffling system
Amazing tone
Durable
Cons
Cannot remove the muffler
It can be too dampened for some
This head would be the ideal choice for anyone who has gotten tired of stuffing pillows into their bass drum. Not only is it one of the best sounding bass heads, but it also comes with Aquarian's patented "Floating Muffling System." This system pre-muffles the bass without any compromise to the sound. This is achieved by using a felt component that moves with the drum head.
Coming to the sound, you would be hard-pressed to find someone with a better sounding head. It has an impressive low punch that is perfectly balanced. The fact that you don't have to dampen to achieve this is the cherry on top of this cake. Being a clear double-ply head, it is right up the alley for someone who loves double kicking their bass. It is available in sizes between 16″ to 26″, so it can fit nearly all kick drums.
This is the ideal drum head for someone who doesn't want to tamper with their kick drum. The muffling system functions without negatively affecting the sound, something not many other muffling systems can claim. It doesn't matter which genre or music style they perform; this drum head will sound fantastic.
---
How to Choose the Best Drumheads for You
It is relatively easy to get lost in your local music store or in online shops when choosing drum heads. While we cannot teach you everything, there are a few crucial things that you need to know before you buy anything. Hopefully, the following buyer's guide helps you out in that department.
What are the Popular Drum Heads Brands
The most popular drum head brands in the world are Remo, Evans, and Aquarian. Each of these companies has been delivering great drum heads consistently for many years. While you might think that there are only three brands, each of them have several dozen lines of drumheads under them, so you can be assured that you have a large variety. Remo gets a bit more of heritage as its founder Remo D Belli was the one who actually invented the synthetic Mylar drum heads in 1957. If you don't know, Mylar heads are the industry standard now.
Types of Drum Heads
Drumheads are typically classified based on their thickness, number of layers of material, and the type of finish they have. You can also divide them based on some other characteristics, like whether they come pre-muffled or not. We have listed the significant classifications below and discussed how they affect the sound of the drumheads. You will need to know the different types before you can make an educated purchase.
1-ply, 2 ply, 3-ply drum heads — what's the difference
The thickness of your drumheads has a lot of impact on both their sound and their durability. The ply of a drum head refers to the number of sheets of materials it is made of.
A single ply head is made of a single sheet of material, and this allows it to be much more sensitive to drumsticks and to produce brighter sounds. However, this reduced thickness leads to more overtones and also makes it less durable. These heads are best suited for lighter genres like jazz and blues but can even be used for rock. However, they typically are avoided for rock as they do not last very long.
Double-ply heads or triple-ply heads are made of multiple sheets and tend to be much more durable and produce fewer overtones. They usually have a heavier sound and shorter sustain when compared to single-ply options. However, they have a much more defined attack. The durability of these heads makes them suitable for heavy-hitting musicians like rock metal drummers. In addition to that, the articulate and deep sound of these multiple plies is precisely what they need.
The number of plies also affects the thickness of the head. A typical head is around seven to ten mil(1 mil=1/1000 inch) thick, but a few single-ply heads can even be three mil-thick. The thicker a head is, the more muted the sound will be.
Clear or coated drum heads, what's the REAL difference?
The finish of your drumhead dramatically affects the overall sound. An uncoated, also known as clear, drum head offers a much brighter sound than a coated one. It also sounds louder, has more attack, and is also able to sustain for much longer.
A coated drumhead, on the other hand, typically has a warmer sound and has a bouncier response. These coated heads also have a unique sound when they are played using brushes, which are used in music styles like jazz ballads. These drumheads also tend to mute overtones effectively. They are much thicker than uncoated ones, so they tend to be much more durable. However, this increased thickness causes them to have shorter sustains and a more muted sound.
In addition, to clear and coated, there are various other finishes. Remo's Suede line of drumheads has a textured finish that gives them a warmer tone and an increased midrange. They act as a hybrid between clear and coated heads. There are also black suede, mesh, fiberskyn, and rawhide imitation finishes, but these are not sonically that different. Typically drummers use coated heads for their snares and clear heads for their toms.
Pre-Muffled
Gone are the days when the only way of controlling overtones was by either throwing a pillow or an old towel into your kick drum. Nowadays, manufacturers muffle their heads themselves and sell them to you, saving you time and giving the heads a more refined look.
These pre-muffled heads come along with a separate component, which is able to dampen the sound. This component is typically adjustable, so you will be able to set the dampening to your desired level. This component is usually a couple of foam inlay rings, but some companies even include a layer of foam onto the underside of the head.
Batter Heads vs. Resonant Heads
The batter head refers to the one on the top and is the one that you strike with your sticks, brushes, or mallets. The resonant head is located at the bottom and is used to control the sound of the drum. When you strike the drum, the sound travels from the batter head to the resonant head. The sound is further reflected and resonated between them multiple times.
While you can technically use any drumhead as either of your heads, you might want to scrutinize your choice a little. It is imperative to spend some time choosing the perfect batter head as it has the most impact on the sound. There also tend to be way more options when it comes to batter heads than resonant ones, so it is easier to pick the wrong one.
Coming to the resonant heads, the thicker it is, the more resonance you can get. More thickness also leads to more overtones and a higher sustain. Therefore, think about the thickness before picking it out.
Consider which genres of music you usually play
One of the single most important factors, if not the most, when it comes to deciding your drumhead is the genre of music you intend to play. If you are into jazz, soft rock, or other light music genres that need an excellent, bright open sound with loads of overtones, single-ply clear heads would likely be perfect for you. Not only do these drumheads offer more complex acoustics, but they have better sustain and resonance compared to multiple plies.
If you are into rock metal or other heavy music genres, you will typically need a drumhead that is able to endure your punishing routine and produce crisp, articulate sounds. In that case, you are going to want to get double-ply heads, if not triple-ply heads. This is because these drumheads tend to be extremely long-lasting and are able to deliver deep and focused sounds. They can pack a powerful yet focused punch, which makes them perfectly suited for these genres.
However, if you are like most drummers, you probably do not have any set music genres. In that case, it is best if you pick out something versatile. It must be able to balance resonance with control without sacrificing either of them perfectly. Coated drums are perfect for this. They have the right tone and aren't starved of overtones; as a further bonus, they are also more durable than clear ones. Pre-muffled bass heads are also an excellent choice for someone who needs a versatile drum kit.
Heavier vs. Lighter sound
Whether you prefer heavier or, lighter sound mostly comes down to the genre of music you play. If you need heavier sounds, you will want to check out double-ply or triple-ply heads as they are much more durable and reliable than single-ply ones. If you are interested in lighter bright sound heads, single-ply clear heads will be perfect for you.
The thickness of the individual plies
A thin drumhead (for example, a five mil or six mil) will produce an excellent, bright sound with more complex accents. These also tend to be more sensitive to your drumsticks. A thicker head(for example, a 10 or 7mil), on the other hand, tends to be much more durable and is more muted. They also have a wider tuning range and a sharper attack. A few models only mention total thickness, so divide that by two or three based on whether it is a two ply or three plies to get the individual plies' thickness.
Drum Head FAQ's
---
How often should you change drum heads?
Drumheads are the core of any drum kit's sound. Upgrading your drum heads will lead to an instant and massive improvement of your drum kit. Even a cheap kit will be able to reap the benefits of a right drumhead. If you are bored of the sound of your drums and want to try out some new genes, changing your drum heads is a much simpler and cheaper option when compared to buying a whole new drum set.
Conclusion
Hopefully, you now have a clear idea of some of the most incredible drum heads available right now and what makes a drum head best for you. Whether you upgrade your entire kit or just swapping the head of the snare drums, you will be able to notice a significant improvement in your drum set's sound once you install new drumheads. It is also crucial to know the different types before making a purchase.
It's near impossible for us to pick favorites in this list as each of these heads are simply incredible. The Evans EMAD2 is immensely versatile for bass drums, while the Superkick II provides the best pre-muffled sound. On the other hand, the Remo Powerstroke will be perfect for someone who wants the balance between resonance and control to be perfect. All three heads deliver incredible performances in their departments for tom heads, but if you are a beginner, it is best to stick with the Remo Ambassador. Coming to snare drums, both the Remo Emperor X coated and Evans Reverse dot give great sound, while the Aquarian Triple Threat is possibly the best triple-ply head in the market. So, upgrade your drum set and have a bombastic time with your improved sound. Hopefully, this article has provided everything you need to know.