Jazz is one of the most daunting genres of music out there, but it is also one of the most expressive. Jazz drum sets are similar to the standard kit in many ways, but they are typically tuned to be more reactive to subtle techniques and to deliver the tones that are characteristic of jazz music.
Choosing a jazz drum kit will need you to consider everything from your budget to your preferred shell type. To save you time, we have a list of the 10 best jazz drum set within your budget. All the drums mentioned are shell packs unless mentioned otherwise.
10 Best Jazz Drum Sets for the Money
---
Some of the best drum kits for jazz are made by the Pacific Drum company. The PDP DW-7 piece is the pinnacle of them all and delivers the best overall performance in this list.
PDP delivers one of the greatest sounds for jazz. The DW-7 jazz drum set is no exception and with its Remo heads and all-maple shell, it is able to pack a punch while still giving you the roomy sound.
There are five different toms for you to play around with. This will come real handy as toms are a crucial driving force for jazz music. Having these many toms also offers you increased versatility and range when you play.
The exact composition of the set is an 8" free-mounted rack tom, a 10" and a 12" rack-mounted toms, a 14" and a 16" floor tom, a 14" snare, and a 22" kick drum. Each of these drums delivers solid sounds and rich tones, making this kit the best jazz drum set.
Pros
5 toms, so a massive range of sounds
Really beautiful to look at
Sound just heavenly
Sturdy and well-built
Cons
The snare takes patience to be tuned properly
The Pearl Masters complete is the most exquisite sounding jazz drum set there is in the market. The sound is simply amazing with warm and clean tones.
You get EvenPly 6-ply maple shells that sound warm and are able to deliver incredible tone, allowing you to deliver sublime live-performances and studio-recording. These drums are actually stronger and lighter than the original Master series. This premium drum kit is packed with the latest of developments in the world of drums. This drum set is also available in multiple beautiful lacquer finishes.
The Masters Complete set comes with a 12" rack tom, a 14" floor tom, and a 20" bass drum. Each of these drums has an incredible sound and has a huge tuning range. The notes are deep and punchy when tuned low and clear when tuned high.
Do note that you do not get a snare drum with this set. You will not get a better sounding jazz drum set than this, if you want musical perfection and aren't worried about shelling out money for it, this is the one for you. It is ideal for small club and cafe gigs while also being suitable for large big Band performances.
Pros
Drums that are outstanding and top of the line
Beautiful lacquer finishes
Lifetime warranty
Cons
Very expensive
You do not get a snare drum
The Yamaha Stage Custom Bebop is a Stage Custom kit whose drums are all bop sized. This smaller bop sizing makes this kit a great platform for jazz music.
This be bop kit includes a 12" rack tom, a 14" mounted tom, and an 18" kick drum. The shells sound warm, have a nice attack, and really clear overtones as they are made of birch wood. Yamaha's YESS mounting system for the rack tom provides the better resonance and sustain, which is crucial to getting good jazz tones.
While this bebop drum kit does not include a snare drum, it is still a great deal. This is because this 3-piece shell pack costs significantly lower than a complete shell pack of similar quality, thus giving you the few extra hundred dollars you need to buy a snare drum of your choosing. You will not get better performance than the Yamaha Stage Custom Bebop for your money.
Pros
Great hardware
A large tuning range
Toms that have good resonance
Cons
Doesn't include a snare drum
The Pearl Roadshow is an incredible value drum set that is absolutely perfect for intermediate & beginners. Unlike most other drums in this list, the Roadshow is a complete drum set that comes along with cymbals and hardware.
This is perfect for beginners as not only is it well construed and durable but it also has a surprisingly good sound when you consider its price. Unlike most beginner jazz drum sets that break down within months, you can expect the Pearl Roadshow to be with you until you outgrow it as a drummer.
The drums you get are a 10" rack tom, a 14" floor tom, a 13" snare, and an 18" kick drum. The drums have 9-ply poplar shells that are able to project sound quite well. The hardware you get is pretty sturdy considering that this is a beginner set. You get a bass drum pedal, a drum throne, a tom holder, a snare stand, a cymbal boom stand, and a hi-hat stand. While the brass cymbals are not that good, they should be enough for beginners.
You will simply not find a better sounding entry level jazz kit than the Pearl Roadshow. As a beginner, you will be able to develop all the skills you need with this drum kit. The drum bundle is nothing short of a steal at its price point.
Pros
Poplar drum shells
Durable and sturdy hardware
Great beginner jazz drum kit bundle
Cons
Cymbals included are low quality
Quality isn't as good as Midtown
The Gretsch Catalina Club is one of the most popular jazz drum sets in the jazz drumming scene.
The drum shells you get are a 12" mounted tom, a 14" floor tom, a 14" snare drum, and an 18" kick drum. The snare drum you get is quite versatile. When it is tuned low, it produces "vintage" jazz sounds that are perfect for styles such as bebop. When it is tuned high, the snare packs a powerful punch and is perfectly suited for modern jazz styles.
When the toms are tuned high, they produce a clear and sustained ring that sounds great. When tuned low, the same toms are able to deliver a solid boom. The floor tom's projection allows it to easily fill a room, so you should be able to play tom solos like the ones played by Gene Krupa. The bass drum is open and able to deliver a solid punch, making it quite boomy. This is perfect for a jazz setup as jazz typically requires the bass drum to act as a tom rather than a time-keeper.
All these together make the Gretsch Catalina Club Jazz a beautiful sounding jazz drum set that is also an incredible value for money. You also get a variety of different finishes to choose from.
Pros
Great sound
Large tuning range
Boomy kick drum, which is ideal for jazz
Multiple finishes
Cons
Tom is quite hard to position
Questlove, the drummer for the legendary Roots, designed the Ludwig Breakbeats. The drum set is an incredible jazz kit that remains extremely portable.
The Breakbeats jazz drum set includes a 10" mounted tom, 13" floor tom, a 14" snare, and a 16" bass. The drums sound best when tuned high, which great as highly tuned drums are usually perfect for jazz. The toms have a clean tone that is well balanced.
The bass drum has a good sustain along with a thud that is well pronounced. You also get a bass drum riser with this kit, allowing the pedal to hit the dead center of the bass drum and produce the best possible tone.
The Ludwig Breakbeats (read breakbeats review here) is an excellent option for anyone who wants a compact portable kit that can deliver solid sound.
Pros
Lightweight and portable
Snare drum is good
You get a bass drum riser, which ensures you get the best tone
Stock drumheads are of high quality
Cons
The drum riser is difficult to set up
The Gammon Percussion 5-piece jazz drum set will be suitable for someone who has just begun drumming or for someone who wants a beater kit to experiment with.
While the Percussion only has a basic tone, it is extremely versatile and will allow you to play other genres along with Jazz.
You get a 12" and a 13" mounted tom, a 16" floor tom, a 14" snare, and a 22" kick drum. You also get cymbals and hardware with the kit, including a drum throne. Therefore you will be able to get playing as soon as you get this kit.
The shells are made from solid wood and are available in a variety of different finishes, so you will be able to find one that suits you. The finishes are high-gloss designs and therefore look great, making them visually appealing for on-stage performances.
If you are a beginner who wants to enter the world of jazz drumming without spending a great deal of money, the Gammon Percussion full size 5-piece jazz drum kit is your best bet.
Pros
Extremely affordable
Decent sound quality
Comes with all the hardware, cymbals, and accessories you need
Cons
The cymbals are not good
The stock drum heads might need to be upgraded
Small drums have slowly become more and more popular among jazz drummers over the years. The Sonor AQ2 Safari is the pinnacle of small drums and is quite common among gigging jazz drummers.
The popularity of Safari is primarily due to its portability and its responsiveness. The 7-ply drum shells are made from maple, with the outer four plies made of North American Maple and the inner three plies being made of Asian Maple. This blend of different woods gives the drums a unique and pleasant sound.
The kit consists of a 10" rack drum, a 13" floor tom, a 13" snare drum, and a 16" bass drum. You also get a smart mount isolation system with the Safari, this system allows the drums to remain sturdy while allowing them to resonate to their maximum.
To sum it up, the Sonor AQ2 Safari is one of the best drums if you want a compact jazz drum set that is perfect for small and intimate venues.
Pros
Snare drum sounds great
Visually attractive
Smart mount installation system
Amazing maple wood shells
Cons
Stock heads make the kick drum sound knocky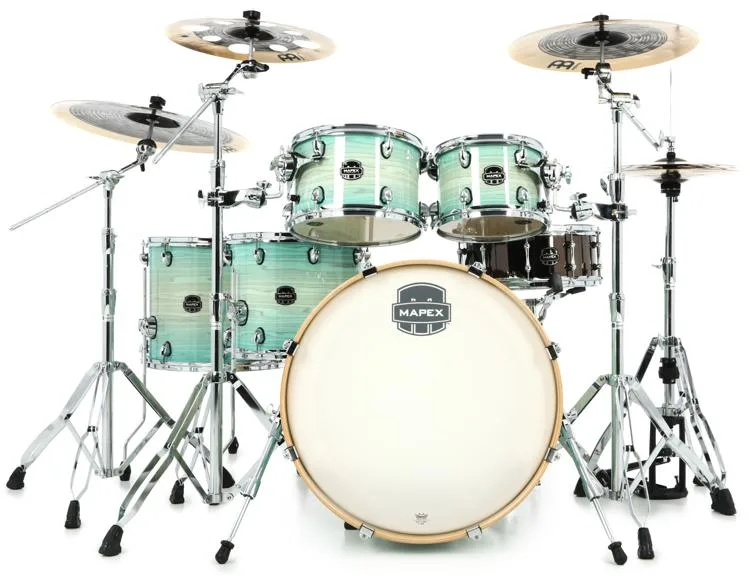 The Armory Drums has one of the bigger configurations in this list. While 6-piece kits are not the standard in the jazz drumming scene, it is still a viable jazz drum kit. Jazz is an extremely expressive genre that constantly evolves, you will see many different drum configurations. A 6-piece configuration has been used by famous jazz drummer Larnell Lewis, the drummer for Snarky Puppy.
The Studioease comes with a 10" and 12" rack tom, a 14" and 16" floor tom, a 14" snare, and a 22" bass drum. The rack toms have individual mounts, this means that they are not mounted onto the bass drum. This gives you more flexibility with positioning the toms and improves the sound quality of the bass drum as it can resonate freely.
The kick and toms are made out of a birch/maple hybrid shell that is able to deliver incredible projection, focused attack, and reduced overtones. The Tomahawk steel snare is also able to provide a deep and throaty growl.
Pros
Great build quality
Massive and powerful bass drum
Individual mounts make rack toms more maneuverable
Cons
Not the best for an intimate jazz setup
The Pearl Export is the most sold drum set in history, this is a testimony to simply how amazing the drum kit is. It is one of the most versatile jazz drum kits out there. You should be able to jump into the depths of jazz music, while still having a kit that you could use to play other genres. This is great for anyone who likes to experiment and explore other genres.
You get a 10" and a 12" rack tom, a 16" floor tom, a 14" snare, and a 22" bass drum. While the drums sound great when tuned high or low, you will not get a rich dark sound no matter what. This is because the shells are made from poplar wood which makes the drums focused and bright. You also get cymbals and hardware with the drums. While the cymbals are not worth talking about, the hardware is reliable and durable.
Overall, Pearl Export EXX is an excellent drum. It allows you to play other genres while still being a good jazz drum kit. However, this versatility is its own doom as the EXX is not really ideal if you want an intimate jazz setup.
Pros
Extremely versatile
Complete set with cymbals and hardware
Range of beautiful finishes to choose from
The bass drum pedal is great
Cons
Will not work as an intimate jazz drum set
Things to Know About Jazz Drumming
---
Ensemble Playing
Jazz is one of the broadest genres of music. It comprises a variety of different styles, with each style demanding different configurations of musicians. The two primary types of jazz ensembles are the big bands and the jazz combos.
The big bands usually consist of about 20 musicians, hence the name big. The drummer is especially crucial in such ensembles as they have to hold the entire rhythm section together, therefore the drummer will need a jazz kit that packs a punch. The drums should not get overpowered by the other sounds, so drummers will typically use large drums. These drums will be quite similar to the drums you use in genres like rock.
On the other hand, jazz combos are completely different. They typically include anywhere between three to six soloists, this includes the drummer. Unlike normal times where the drummer is pushed to the background, in jazz combos the drummer is a soloist. The jazz drum setup is typically small as it does not have overpower a large group.
To conclude, a big band drummer will require a large kit while a jazz combo drummer will require a small kit.
Cymbals
Many of the sub-styles of jazz are quite extensive on the cymbal usage. They are extremely top-heavy, that is they tend to focus more on the cymbals than the drums. Swing is one such style where the cymbals take the center picture.
Therefore, you are going to have to get a good set of cymbals. Jazz drum kits usually have cymbals that have vintage sounds, this means that they sound full, washy, and warm.
Your most crucial cymbal is the ride cymbal, as you will be hitting it the most often in a jazz setup. It has to clear, colourful, and articulate as it forms the thumping heart of a jazz drum setup.
The hi-hat is the next most important cymbal. You could very well get through an entire jazz routine by just playing the ride cymbal and hi-hats. The hi-hat also acts as your time keeper, so you should make sure that your hi-hat has a distinctive "chink" sound when you close it with your pedal.
As most of the drums mentioned above are shell packs, you will have free choice over your cymbals. While you may be tempted to skimp on the cymbals, understand that cymbals are as important in jazz drum sets. So do avoid going dead cheap on your cymbals. If your drum bundle comes with cymbals, the cymbals will mostly sound very bad. Unless you are a beginner, you should get the stock cymbals replaced as soon as possible.
Drumheads
The choice of drum heads and their tuning levels are pretty similar across all the styles of jazz. Jazz drum kits are usually tuned high so that they sing. Single-ply heads are suited for this, with coated heads being the best option.
Coated jazz drum sets are the best option as they sound warm and textural, almost melodic in a way. They also have great feel, resonance, response and are able to cut overtones. The drums don't have to sound piercing and clear, unlike metal or rock. Most of the best jazz drum sets mentioned above come with great stock drum heads, but if you are looking to upgrade you should check out either the Ludwig Weathermaster or the Remo Ambassadors.
Conclusion
With jazz being as broad it is, you have to get a kit that covers all the styles you want to play. This list of jazz drum kits has drums suited for nearly every type of jazz drumming, from small bop kits to large big bands kits. You should have no trouble finding the best jazz drum set within your budget with this. Jazz is an incredible genre where you get to flex your drumming creativity. So, get out, get a drum set, and start practicing.