Last Updated on July 28, 2021 by Danny
Your cymbals are the second most crucial component of your drum set after your drums. Getting them a proper cymbal stand is crucial to getting the best out of them. A bad stand will make your cymbal sound sloppy and can mess up your entire sequence. We have listed the six great cymbal stands you can purchase right now to ensure that you never have to go through the problems associated with a lousy cymbal. We have only looked at standard stands, so if you are looking for hi-hat stands, you can find them here.
6 Best Cymbal Stands Comparison and Reviews
---
1. DW 5000 Series Heavy Duty Cymbal Stand – Boom (Best overall)
Pros
Heavy-duty build
Incredible memory locks
Quite light for the stability it offers
A professional-grade yet portable stand
This is one of the most popular heavy-duty cymbals stand in the world. It is, in essence, a stripped-down version of DW's more premium 9000 series. It is packed with features that allow you to get everything you ever wanted from your stand.
It uses memory locks to position everything properly. These locks are incredible, and they can hold the whole stand properly even when subjected to the most brutal drumming. The fantastic thing is that these are much lighter than premium ones, so you will be able to transport them more comfortably than the more expensive ones without losing much stability. It is even easy to set up and breakdown.
---
2. Pearl BC930 Double Braced Boom Cymbal Stand
Pros
Double-braced
Triple-legged
A lot of control over positioning
Can hold any sized cymbal
Cons
No memory locks to set the height
Pearl is one of the biggest names in the drumming world, and they have made an excellent stand with the BC930. It is packed with features that many drummers desire, and this makes it a joy to use for practice, studio work, and live performances. It is a triple-legged stand with each of the legs being double-braced. This results in a stand that is not only very stable but is also exceptionally durable. It has a premium chrome finish that helps alleviate the aesthetics of your drumkit onstage.
This stand also features the uni-lock system, which gives the drummer great control over the direction and tilt of the cymbal. This ensures that you'll be able to position your cymbal correctly, allowing you to play to your best comfort. Versatile enough to be used as both a straight stand or a boom. Even though it doesn't have memory locks but it can still sturdy enough. The only drawback is that this stand is quite heavy, and lugging it around to different venues can get tedious.
---
3. PDP 800 Series Boom Cymbal Stand
Pros
Very stable & extends at sufficient height
Flexible positioning
Easy to customize the leg arrangement
Excellent Stand at a Reasonable Price
Cons
Isn't suited for hard play
If you think you haven't heard of the PDP company, you don't have to worry as this is PDP by DW. These are the best affordable and high quality stands you will find in the market. Featuring a double-braced tripod design and oversized rubber feet, this is an extremely sturdy stand. It is a medium-weight stand, so it lies in the middle ground between stability and portability.
It is exceptionally suited to life on the road as it offers excellent flexibility in positioning and is durable enough to take on hard hits. You will be able to control both the leg placement and the cymbal placement. While it is a boom stand, it can even be used as a straight stand. It is very good for the price especially for intermediate drummers, or drummers who are using smaller cymbals and doesn't want to break the bank.
---
4. DW DWCP3700 Straight/Boom Cymbal Stand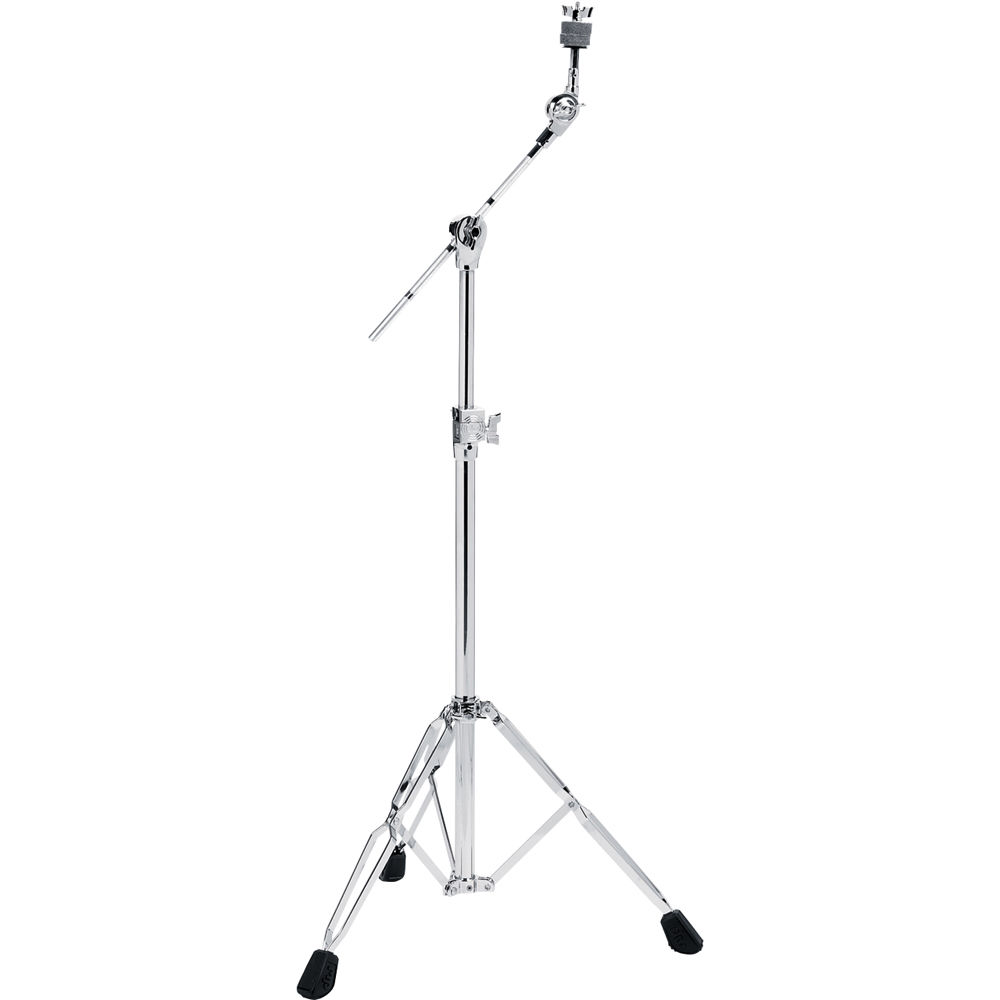 Pros
It has both boom and straight variants
Sturdy and light
Lever adjustment for cymbal angle
Plastic insulators
Cons
It doesn't have a memory lock
The DWCP3700 is a much cheaper alternative to the 5000 series from DW. It has many great features and has excellent build quality while remaining affordable. It has a fine-tooth tilter and a captive wing nut that allows out to adjust the boom's position on the fly. Not only is this system flexible, but it is also sturdy enough to remain in place during drumming. The tubes also feature plastic insulators that prevent rattling when microphones are placed too close to recording. While this is a boom stand, there is even a straight variation that is known as DWCP3710.
---
5. Gibraltar 4709 Boom Cymbal Stand
Pros
Unique pedal design
Features a nylon material that reduces scratches
Height adjustable
The 4709 is a fantastic stand, which is not surprising considering that Gibraltar is well known for its quality hardware. Constructed out of steel and coated with a chrome finish, the 4709 not only has a premium look to it but is also very durable. It even features a unique pedal design known as the G-style pedalboard, which delivers a better experience.
It is a triple-legged design that gives it plenty of stability and enables it to bear heavy cymbals without any risk of the stand tipping over during heavy drumming. All the feet have rubber caps, and even the upper section of the stand has a nylon material that reduces the scratches and damages caused by metal on metal contact. It also features a hinged height adjustment system that ensures that anyone can comfortably use it irrespective of their height.
---
6. Mapex B200RB
Pros
Double-braced
Cheap
Mirror finish
The Mapex B200RB is one of the best options for beginners. While it is not the best stand in this list, it offers excellent features at a low price. It is a simple cymbal stand that features three double-braced legs that have rubber tips. While it lacks any fancy features, it has all the standard features a beginner will need. However, it has a stunning mirror finish that looks pretty good under lights. The only drawback is that it is quite heavy for such a simple stand; you will find transporting it to be a little hassle.
---
What you need to know before buying a Cymbal Stand
The things you need to know before buying a cymbal stand are how sturdy it is, how flexible its positioning system is, how heavy it is, and whether it is a boom or a straight stand. Armed with these four details, you will be able to buy the best cymbal stand for yourself easily.
Sturdiness
The sturdiness of a stand is its most fundamental attribute. A stand must be able to remain sturdy even during intensive sessions. If a stand moves even a little, it will mean that you will strike the cymbal in the non-ideal position. Your years' worth of muscle memory will be rendered useless because the cymbal moved a few inches. There is also the risk of the stand toppling and ruining your entire session. If you use heavy cymbals or are a heavy hitter, you especially need to get the most sturdy stand possible.
Positioning flexibility
If you need to play your cymbals comfortably, you will have to position the cymbals correctly. Having a flexible stand allows you to position the cymbal in precisely the place you want it to be in. A more flexible stand will also give you more liberal when positioning your entire drum set. Instead of needing to have the stand right new to your arm, you could have the stand positioned a little further away but have the cymbal within your reach. Typically the more expensive a stand is, the more flexible its positioning will be. So, decide how much you are willing to spend on the added felicity.
Weight
A stand's weight is an important deciding factor when it comes to stability, durability, and portability. A heavier cymbal will be able to last longer and will be able to stay stable even when pelted furiously for hours together. A lighter cymbal, while being less stable and durable, will be so much easier to carry. Therefore, you should decide the weight of your stand based on your needs.
If you are only going to use it for practice and arent going to move around a lot with it, a heavier cymbal will be ideal for you. If you are someone who gigs a lot and needs to carry his kit around often, you will be able to appreciate the portability of a light stand. If you want a stand that can balance both portability and stability at the same time, you should look at getting a medium-weight cymbal.
Boom stands vs. Straight stand
A straight stand is the simplest stand possible. It is just a straight rod that stands vertically over the legs. It is cheaper than a boom stand, but it offers very little flexibility in positioning.
On the other hand, a boom stand has a boom arm that helps it reach over other drums and cymbals. They offer extreme versatility when it comes to positioning. Some cymbal stands even have an arm directly attached to the bottom of the stand, allowing these stands to be positioned as straight stands. While these do cost a bit more than straight cymbal stands, the added flexibility is always worth the few extra dollars. The only issue is that lighter stands will require counterweights to allow you to extend the boom arm far away from the stand.
Conclusion
Once you understand what the various things to look for in a stand are, making a good purchase is easy. If you are in a hurry and want the best cymbal stand possible, we suggest that you get the DW 5000 series heavy-duty stand. While it is a little expensive, it is packed with features and is incredibly stable. You cannot go wrong with it.